The Iliff Alumni Association welcomes you.
We look forward to enriching your relationship with Iliff and hope you continue to let us know how we can be of service to you as an alumni organization.
---
Connect with Iliff and Fellow Alumni
MLK50 @ Greeley
Rev. Lonnie Eakle (THM, 1967) leading the charge at Greeley on Martin Luther King Day, January 15, 2018.
Golden Reunion
Rev. Thomas English (MDiv, 1965), Karen Bueno (MRE, 1966), Rev. Fletcher Wideman (MDiv, 1966), Rev. Lonnie Eakle (THM, 1967), and Dr. John Foreman (MT, 1965 and DMin, 1979) attended the Golden Reunion Alumni at the Fall Convocation and Gathering Week 2017.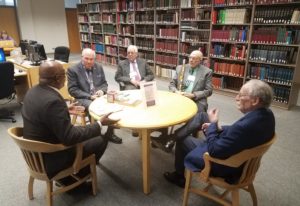 This is a closed Facebook group for Iliff alumni/ae. Ask to join today for all the good stuff in your Newsfeed. Be sure to share for your fellow alumni, too. Contact alumni@iliff.edu with questions.
Find more information on requesting your transcript from our registrar.
Stay up to date about the latest happenings at Iliff and fellow alumni.
Ira J. Taylor Library Special Privileges for Iliff Alumni
Alumni have access to library resources. Click here for information.
Have a suggestion for other free/open access tools other alumni might like? Send a message to support@iliff.edu.