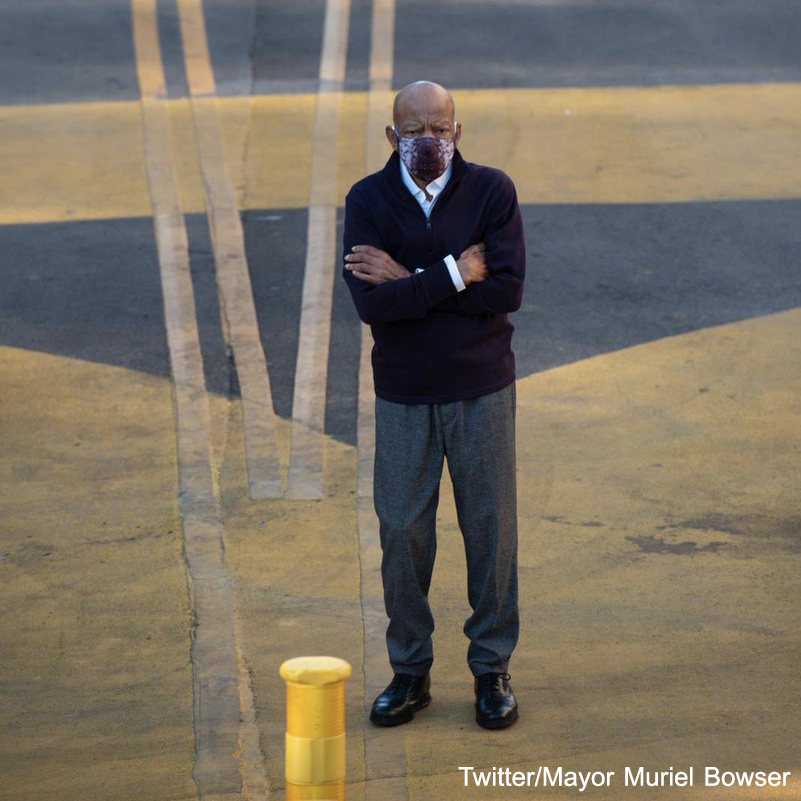 July 27,2020
In Memory of John Lewis
This week, Congressman John Lewis made his final crossing of the Edmund Pettus Bridge in Selma. As I write, his body now lies in state in the Capitol Rotunda. The last photo we have of the Congressman shows him standing on the 16th Street Black Lives Matter mural in Washington D.C. Iliff remembers John Lewis.
John Lewis spoke of his love for Congress. As his body, appropriately and with due dignity, lies at the center under the vaulted dome, I cannot help but hear his voice speaking with his customary caring force. Once again, he gives us cause to see more clearly. Around him, symbols of freedom and justice are etched in the stone. The Rotunda stands with greater meaning if we see it through the Congressman's life and service among us. This means that we cannot view the Capitol dome apart from his last photo on the 16th Street mural. Under his feet in huge yellow letters, "Black Lives Matter." The rotunda and that mural are contained within the same capitol city. The messages are essentially the same. But when seen together, they expose a deep gulf between the ideal and the reality. I imagine two things. That he wants us to love and sacrifice for the ideal. And, that we view that ideal in tension with those places where so many do not yet experience its promises. Our work is to see and make change that will address the current crisis of disparity. Our efforts at strengthening democracy must include recognition that we do not yet as a nation fully understand and embrace equity…that we the people have a long way to go before we can ever say we have fully measured up to its ideal. 
As he crossed that bridge, still named after a former Confederate brigadier general, U.S. Senator, and leader of the Alabama Ku Klux Klan…the place where on Selma's Bloody Sunday, he was beaten and nearly lost his life, I see us all being called to the powerful combination of courage and love. Today, I am moved to hope for what one person's life of dignity can contribute. I am challenged by the difficult forces ahead.  And I am centered on the beloved Congressman's own words to us to create, "Good Trouble." May Iliff be worthy.
Tom
Thomas V. Wolfe
President and CEO
Iliff School of Theology
Note: Mr. Lewis, the civil rights leader who died on July 17, wrote this essay shortly before his death, and was published in the New York Times upon the day of his funeral (July 30) – Together, You Can Redeem the Soul of Our Nation.