What is Renewal?
The Renewal Conference is Iliff's annual community gathering to share our work, hear timely messages from a variety of experts, and spend time in fellowship. Each year, we focus on a different overall theme which is relevant to our society in those moments, and each day provides content focused on part of the conference theme. In light of the challenges we are all facing, the theme for this year is "Justice."
For 2021, we are moving the conference to an online event series to be held in the afternoon on the second Monday of each month, from January through June. For our event series, we will be partnering with faculty, staff, alumni, students, and community members to share how justice powers their work in the world.
Presenter details and registration information will be posted shortly. In the meantime, please save the dates! All events will be held from 1:00 – 2:30 (Mountain).
Monday, January 25, 2021

Monday, February 8, 2021

Monday, March 8, 2021

Monday, April 12, 2021

Monday, May 10, 2021

Monday, June 14, 2021
Continuing Education Units
Attending the six Renewal sessions will total nine contact hours which could be used for CEUs.   
Comparative Religion and Justice with Dr. Girim Jung and Dr. Jacob N. Kinnard
Dr. Girim Jung is the Visiting Assistant Professor of Comparative Religion and Contextual Theologies and Louisville Institute Postdoctoral Fellow at Iliff School of Theology. Dr. Jung specializes in Comparative Religion and Comparative Philosophy with a particular focus on East Asian Buddhism, Black Atlantic traditions, and Decolonial Thought. He is co-host of the Theories in Praxis Podcast with Dr. Philip Butler, which explores interdisciplinary theoretical texts alongside current events and its usefulness in developing strategies of liberation. He is currently working on revising his dissertation for publication, which proposes archipelagic thinking as a transoceanic approach to decolonizing comparative religious and cultural studies. The project links the Black Atlantic and Asian Pacific through recovering histories of political solidarities and tracking resonances between Black Atlantic thought and Huayan Buddhist philosophy.
Dr. Jacob N. Kinnard, professor of comparative religions at Iliff School of Theology, teaches courses on the religious traditions of India, comparative religion, and theoretical and methodological issues in the study of religion. Among the topics he writes about are Buddhist art and ritual, temples and pilgrimage places, and the ways in which religious communities understand and negotiate religiously significant places.
He is the author of Places in Motion: The Dynamic Lives of Images, Temples, and Pilgrims (Oxford, 2014) The Emergence of Buddhism: Classical Traditions in Contemporary Perspectives (Fortress, 2011), Imaging Wisdom: Seeing and Knowing in the Art of Indian Buddhism (Routledge, 1999), and he is the editor of the forthcoming Blackwell Companion to Comparative Religion (Blackwell), and co-editor of Constituting Communities: Theravada Traditions in South and Southeast Asia (SUNY 2003). He has published numerous articles in journals such as History of Religions, Journal of the American Academy of Religion, Material Religion, Postscripts, The Eastern Buddhist, and the Journal of the International Association of Buddhist Studies, as well as chapters in a wide range of edited volumes and encyclopedias.
Storytelling, Music, and Justice with Spencer LaJoye (MDiv 2020) and Julie Todd (PhD 2012)
 Moderator: Caran Ware Joseph
Julie Marie Todd is a scholar-activist living in Lawrence, Massachusetts. She is the John Wesley Iliff Senior Lecturer in Justice & Peace Studies at the Iliff School of Theology, teaching all of her courses in online and hybrid formats. A graduate of the DU/Iliff Joint PhD program, her dissertation is available as the book Struggling with (Non)violence. Her scholarship focuses on social change theory and praxis, violence and (non)violence, ecology and earth activism, and matters of privilege, oppression and solidarity across axes of difference. She is a published essayist and poet on matters of justice-seeking and the spiritual life. She is also the author of the books 50: thorns & blossoms and Nothing About Us Without Us: LGBTQ Liberation and the United Methodist Church. She is a trained herbalist and aromatherapist, and the owner of JustJulie.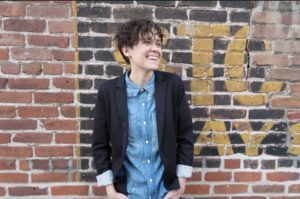 Spencer LaJoye (they/them) is a folk/pop singer songwriter, violinist, and vocal loop artist in Denver, CO, who believes everyone is made of the good stuff. They make music to remember what it means to be human, to find connection in a time of disconnection, and to feel something in a world gone numbLaJoye was raised on classical music, musical theater, and jazz in Hastings, MI. Their first venture into folk music was an EP produced in Nashville, TN at the Contemporary Music Center. Their first studio album was a solo acoustic project, released with and for their community in Grand Rapids, MI, while earning their B.A. in Religion from Calvin University. Since moving to Denver, CO to be with their wife, LaJoye has written and produced three albums.
LaJoye has an Mdiv from Iliff School of Theology and works as the Artist-in-Residence at Lakewood United Methodist Church. LaJoye also curates a small live music listening room for songwriters called "The Chimney Place" and is passionate about creating sacred space for inspiring empathy through the arts.
Social Enterprise and Justice with Betsy Lay and Dr. Samantha Joo
Moderator – Jim Chavez
Jim Chavez is the executive director of Latin American Educational Foundation (LAEF). LAEF is a Colorado-based nonprofit, providing college assistance and guidance to Colorado's Latino students and their families, including direct scholarship support. Established in 1949, LAEF is Colorado's oldest Latino nonprofit. Jim has dedicated much of his professional life working for education related causes. As a board member and staff member of Colorado Student Obligation Bond Authority, Jim was instrumental in creating Colorado's first prepaid college tuition program, which became known as CollegeInvest and then worked across the country to develop and implement numerous state college savings programs or Section 529 plans. Jim is an active member of the community, serving on the boards of many organizations, including Denver Housing Authority, Clayton Early Learning Center and Rocky Mountain Public Broadcasting Corporation and University of Northern Colorado.  
Betsy Lay is the co-founder and owner of Lady Justice Brewing in Aurora, CO. After graduating from the University of Denver in 2004 she began her career working in education-based non-profits, including serving two terms as an AmeriCorps VISTA, where she met Kate Power and Jen Cuesta. Together in 2014, the three friends founded the philanthropic Lady Justice Brewing Company. She also holds a Master in Theological Studies from Perkins School of Theology at Southern Methodist University. In her time off from the brewery, Betsy can be found with a good whiskey, a good book, and a good dog.  
Dr. Samantha Joo
is the Academic Advisor and Adjunct Faculty at the Iliff School of Theology.  She is also the founder of Queer Koreans Alliance, currently named Dding Dong, a safe space for LGBTQIA teens in Seoul. It is one of the most respected and largest queer organizations in South Korea. Now, she is developing Platform where she is the founder and director.  Platform (
www.platform4women.com
) is a nonprofit organization invested in mentoring daring women and youths for social justice work.  She is working to create a sustainable nonprofit model by exploring different entrepreneurial projects.
Environmental Justice with Dr. Mark Freeland and Dr. Amy Erickson
Moderators: Rev. Zach Bechtold and Rev. Matt Franks, Bearded Theologians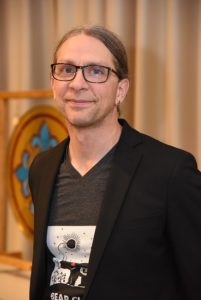 Dr. Mark Freeland, (Sault St. Marie Anishinabek) Assistant Professor of American Indian Studies/American Indian Studies Program Coordinator at the South Dakota State University, is the first Tinker Visiting Professor for both the 2020-2021 and the 2019-2020 academic years. He regularly Iliff courses during the summer and mentors students and offers public education programs during the fall and winter quarters.
Dr. Amy Erickson is associate professor of Hebrew Bible and the director of the Masters of Theological Studies (MTS) program at the Iliff School of Theology. Erickson teaches a range of courses in biblical interpretation, including The Body and Sexuality in the Hebrew Bible, (Re-)Constructing Identity in the Persian Period, and The Afterlives of Jonah. Her research interests include Hebrew poetry, metaphor theory, theories of identity and constructions of the self, poetic and mythological texts in ancient Near Eastern literature, and the history of interpretation.
Erickson has written articles on Jonah, Job, the Psalms, Zechariah, and Amos for academic journals and edited volumes. She is a regular contributor to The Encyclopedia of the Bible and Its Reception (de Gruyter), workingpreacher.org and the Huffington Post ON Scripture. She is currently writing a commentary on the book of Jonah and the history of its interpretation for a new series, published by Wm. B. Eerdmans, entitled Illuminations.
An active member of the Society of Biblical Literature, Erickson currently co-chairs the section Megilloth ("Scrolls," which includes the book of Song of Songs, Ruth, Lamentations, Ecclesiastes, and Esther).
Reproductive Rights and Justice with Rev. Amanda Henderson and Sam Carwyn
Sam Carwyn, Reproductive Health Rights and Justice Educator and Advocate at The Interfaith Alliance of Colorado, has dedicated herself to serving her community with her entire professional career spent in the non-profit sector. Sam began her career responding to child abuse and neglect cases, then addressed behavioral health, mental health, and substance abuse needs.  She taught at the secondary level, primarily within the special education department. For twelve years, she worked part-time assisting survivors of sexual assault and domestic violence. 
Sam earned a B.S. in child youth and family studies and later obtained an MA in teaching. She's currently a third-year Masters in Divinity student with Social Transformation as her concentration at the United Theological Seminary of the Twin Cities.  She is on the church leadership track at UTS and in care for ordination with the Universal Fellowship of Metropolitan Community Churches. She is committed to being Christ-like, not just wearing the title of Christian.
Rev. Amanda Henderson joined the Institute of Religion, Politics and Culture at Iliff as its Director in January 2021 after serving more than six years as Executive Director of The Interfaith Alliance of Colorado. She is an Ordained Minister in the Christian Church (Disciples of Christ), a frequent speaker and writer on topics of interfaith understanding, advocacy, and civic engagement, and author of Holy Chaos, Creating Connections in Divisive Times. Amanda is a PhD student in the Joint Doctoral Program at Iliff and DU, with a focus on Religion and Politics.

Mental Health and Justice with Dr. Carrie Doehring and Dr. Philip Butler
Dr. Carrie Doehring is the Clifford Baldridge Professor of Pastoral Care and Counseling at Iliff. She joined the Iliff faculty in 2003, having taught for eleven years in the masters and doctoral programs at Boston University's School of Theology and in the Boston University Counseling Psychology and Religion Ph.D. Program in the Graduate School of Arts and Sciences. She is a licensed psychologist in Massachusetts and Colorado, and a diplomat in the American Association of Pastoral Counselors. At Iliff, she advanced to full professor of Pastoral Care and Counseling in 2015. She directs the Masters of Arts in Pastoral and Spiritual Care (MAPSC) and the Military Ministry Course Provider program. She is the author of over 35 chapters and articles, and three books.
As a licensed psychologist and ordained religious leader, she explores how people draw upon religious faith and spirituality to cope with experiences like trauma, moral stress, and prejudice. She wrote the chapter "Religiously-Linked Discrimination, Prejudice, and Victimization" for the 2013 APA Handbook of Psychology, Religion, and Spirituality (Vol. II). Her book "The Practice of Pastoral Care: A Postmodern Approach, Revised and Expanded" (Louisville, KY: Westminster John Knox, 2015) is used as a textbook in pastoral care and clinical pastoral education throughout the United States, Canada, and Europe. Her most recent publications explore the moral stresses of religious leadership and chaplaincy, the moral stress of student debt, military moral injury, and assessing competency in intercultural and evidence-based spiritual care.
Dr. Philip Butler is the Assistant Professor of Theology and Black Posthuman Artificial Intelligence Systems at Iliff. As an academic, Dr. Butler brings an excellent teaching resume and cutting-edge scholarship that combines Black liberation theologies, neuroscience, spirituality and technology, particularly artificial intelligence. He is also the founder of The Seekr Project, which is a distinctly Black conversational artificial intelligence with mental health capacities, combining machine learning and psychotherapeutic systems.
In addition to his publications in the field of theology, philosophy, and science, Dr. Butler is also the author of "Black Transhuman Liberation Theology: Technology and Spirituality" (Bloomsbury, 2019) in which he investigates what might happen when Black people utilize technological advancements to enhance both Black spiritualities and Black bodies in the struggle of materializing liberating realities.