Exploring the Story-Telling Part of a Multilayered Identity
Academic scholars, religion, theology, or otherwise, are often recognized by their hyphenated identities. Even outside of the academy, most people find themselves defined by any number of identities, often overlapping but sometimes conflicting. Dr. Robyn Henderson-Espinoza is no stranger to identity hyphenation, often straddling lines between activist, theologian, teacher, academic, story-teller, and several other amazing roles.
Most recently, Dr. Henderson-Espinoza was one of three Christian leaders featured on a HuffPost article. Aside from being written about, Dr. Henderson-Espinoza has written for HuffPost, Religion Dispatches, and Sojourners Magazine. While often in the limelight for activism, Dr. Henderson-Espinoza is one of the amazing alumni from the University of Denver/Iliff School of Theology's Joint Doctoral Program in the Study of Religion. Dr. Robyn is currently a visiting scholar at Vanderbilt University Divinity School, and will begin as a visiting professor at Duke Divinity School in the spring semester of 2019. Along with teaching engagements, Dr. Robyn is the founder of the Activist Theology Project. Despite a busy schedule that includes teaching, writing, and leading, Dr. Robyn finds time to explore the story-telling part of their multilayered identity and to share about their time at the JDP.
When asked what drew Dr. Robyn to the JDP, they answered similarly to many of the University of Denver/Iliff School of Theology Ph.D. students: the interdisciplinary approach to theology and ethics. The JDP offered Dr. Robyn an educational space that "was not overly confessional." Having inherited theologies, Dr. Robyn wanted an institution that provided space for asking (and seeking to answer) the hard questions that theology often leaves unanswered. Dr. Robyn was equally interested in Continental Philosophy and the University of Denver became the philosophical counterpart to the theology and ethics at Iliff. As a self-proclaimed Queer activist and Latinx Scholar, the JDP became a space for Dr. Robyn that did not threaten being their Transqueer Latinx identity. Besides their academic and personal reasons for attendance, Dr. Robyn told us that the winters in Chicago began to look dreary when compared to the sunny days and more mild winter temperatures that Denver had to offer.
The JDP requires its students to complete a specified number of courses before dissertation writing to begin. This allows students an opportunity to explore classes they otherwise would be unable to take, form relationships with professors who might one day serve on their dissertation committee, and to commune with students at DU and Iliff to broaden their intellectual peer group. When asked "Did any specific class or professor give you a new vantage point about the work that you do now?" Dr. Robyn generously wrote about two professors whose guidance and support helped shape the scholar they are today. Dr. Robyn wrote:
"I feel particularly grateful to Dr. Edward Antonio and for his class "Theories of Difference.  I am deeply invested in the politics of radical difference and Dr. Antonio really was an intellectual companion for me.  We read similar things and he introduced me to a wide array of theory that has really shaped my work as a public theologian.  Additionally, Dr. Antonio was able to hold the both and of intellectual curiosities, and this became an important gift to me.  I also appreciate the ways that Dr. Antonio, also a person of color, helped me see that I, too, could play in the deep waters of theory and philosophy.  He gave me permission to think outside the lines and in between the lines; he showed me that a borderland approach to scholarship is both an engaging one and a compelling.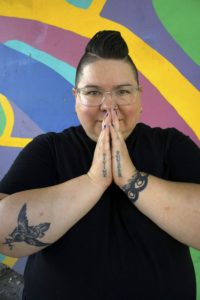 The other person who shaped me was Dr. Ted Vial. Dr. Vial's "Theories & Methods for the Study of Religion" was the first class I took, and I knew then that I wanted to study more things that Dr. Vial taught.  He became my PhD advisor and helped me hone my skills in thinking with Spinoza and contemporary thinkers.  I am forever grateful for Dr. Vial's precision, analysis, and breadth of theology and philosophy.  The other thing that Dr. Vial offered me was the chance to believe in myself as a real, legitimate scholar who can contribute to the discourse in meaningful ways.  I have learned to believe in myself because of the investment that Dr. Vial has in me and my work.  One of the first things he said to me over email prior to becoming my Ph.D. advisor was that he believed in my work.  That is a powerful statement for those of us who are not legacy students who are also navigating white serving institutions.  Sometimes we just need to be told, "yes, I believe in what you're doing!"  Dr. Vial offered that to me, and as a result, I have hunkered down to be faithful in the small things and really participate in the life of the mind."
Dr. Robyn's experience at the JDP was shaped by experiences and interactions with professors, especially their experience with their dissertation chair and advisor, Dr. Ted Vial. Dr. Robyn's personal experience and journey to the Ph.D. program was as much shaped by their time with faculty as it was by teachers and professors they had prior to their Ph.D. journey.
Having always hoped to earn a Ph.D., Dr. Robyn knew that this would be a path in the future. After college, feeling especially energized by the teachers during those formative years, Dr. Robyn was called to teach and called to the vocation of theologian. Pursuing a Ph.D. allowed Dr. Robyn to do both in a sense. Dr. Robyn's love for theology and ethics, for reading, and for theological history, only fueled the fire to become an academic and participate in the life of the mind—one of the most rewarding things in their life thus far.
As an amazing scholar, a Queer activist, and theologian, Dr. Robyn's work does not stop with the Huffington Post. Dr. Robyn's active involvement with activism began over two decades ago when they "cut [their] teeth," so to speak, on radical queer politics in Chicago while at seminary. Dr. Robyn opened the conversation and asked the questions to bring inquiry into the space of activism. Later, during the Occupy Movement, Dr. Robyn used their skills as a budding academic to engage questions of activism and what work needs to be done. As Dr. Robyn's place in the activist community and in activist spaces has grown, they continue to ask questions, bringing full authenticity into these spaces. As an activist academic, closing the gap between the movement space to the academic space can be tricky. In order to bridge the divide Dr. Robyn shows up in spaces and works to companion both the academics and the grassroots activists to embody the kind of change we all want to see in the world.
Dr. Robyn's amazing hyphenated public identity of theologian-academic-queer activist-Latinx scholar only begins to get at the heart of their calling and passion for theological ethics, academic activism, and asking hard questions when the questions may seem too big.
---
Now accepting applications for Winter 2021 and Fall 2021! Please visit https://www.iliff.edu/apply/ for more information and to start your application.
#Iliff @robynhrndersonespinoza