Critical Race Theory: What It is and Why It Matters
Thursday, November 4, 2021 | 12:00 to 1:15 PM (MST)
A collaborative event co-hosted by Black Women Solitionaries, the Iliff Women's Alliance and the Institute for Religion, Politics and Culture
Critical Race Theory: What It is and Why It Matters
Critical Race Theory has entered the public lexicon and brought political division, school board fights, and battles in higher education. But do the people doing the fighting actually understand what the theory is? In this session we will hear from Black Women leaders on the history and foundations of CRT, and we will discuss the vital need to educate ourselves and others on the legal structures that have built and maintained racism in our society for the past three centuries. Additionally, we will explore the spiritual necessity of facing our past so we can imagine new futures.
Alexi Freeman
Professor of the Practice of Law, Associate Dean of Diversity Equity Inclusion,
Director of Social Justice Initiatives Sturm College of Law
At Denver Law, Associate Dean Alexi Freeman leads our nationally recognized externship program, teaches social change lawyering courses, and oversees a range of efforts dedicated to diversity, equity and inclusion. She has a distinguished record working alongside low-income communities and communities of color as a racial justice and legal advocate. Prior to joining Denver Law, Freeman worked as an attorney at Advancement Project, a national civil rights group, where she assisted grassroots organizations across the country on social justice advocacy campaigns around education and juvenile justice policy, housing, and voting rights issues. Freeman continues to support grassroots communities and social justice movements pro bono. Freeman received a JD from Harvard Law School, where she was recognized for her leadership on campus and public service commitment, and a B.A. from the University of North Carolina at Chapel Hill.
Deborah Richardson
Executive Director and CEO
ACLU-CO
Deborah J. Richardson has more than three decades of experience in transformative non- profit executive leadership in global, national, and local organizations working to advance civic and human rights for non-dominant identity groups. Deborah is a nationally recognized expert and advocate in advancing justice for women and their families, and convening cross-cultural, community-based coalitions working to advance equitable societies. Her passion is mentoring the next generation of social justice advocates. Deborah is recognized for her work by many organizations, among them, Auburn Theological Seminary, Georgia Justice Project, Shared Hope, and Spellman College Board of Trustees. She serves on the Board of Directors of Welcoming America and Board of Visitors for the Georgia State University Honors College.
Rev. Dr. Valerie L. Jackson (DMin. '14)
Senior Pastor
Cameron United Methodist Church
Dr. Jackson is an ordained elder in the United Methodist Church. She is the first African American and Queer (LGBTQ) lead pastor of Cameron UMC in Denver and Congregational Resource Minister for the Mile High Metro District of the Mountain Sky Conference of the United Methodist Church. In addition, Dr. Jackson provides service to the community as adjunct faculty at the Iliff School of Theology; and as a board member for the Center for Health and Hope, Interfaith Alliance of Colorado and Reconciling Ministries Network.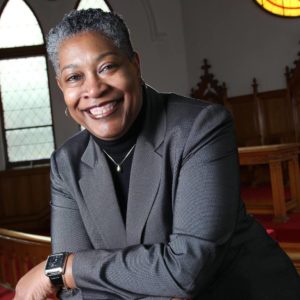 Norma Johnson
Healer, Poet, Writer, Performing Artist, Teacher, Consultant, and Facilitator
Norma Johnson is a spiritual healer, speaker, writer-poet-playwright, performance artist, consultant and facilitator that brings a creative background into her distinctive presentation form of social justice education and activism. She presents and facilitates across a dynamic range of organizations, institutions, faith communities, civic groups and in educational forums such as universities and the highly regarded Annual White Privilege Conference. Her work opens space for inquiry, reflection and dialogue, and her poetry about race is used enthusiastically by educators across the
country. Norma's storytelling inspires awareness and insight and the power we have to bring paths of healing to our future.
Dr. Carolyn Love
Educator, Philanthropist, Leadership Trainer and Coach,
Owner, Kebaya Coaching ~ Consulting; Black Women Solutionaries, Inc.
Carolyn Love, PhD is the founder of Kebaya Coaching & Consulting. The Company focuses on enhancing the leadership talent in organizations, creating equitable and inclusive workplaces, and facilitating meaningful and sustainable change. Carolyn served as the executive director and CEO of three nonprofit organizations in the Denver area. She currently teaches in the Master of Nonprofit Management program at Regis University. As a consultant, trainer and leadership coach, she facilitates workshops and trainings on leadership, equity, diversity and inclusion. Internationally, she presented workshops at La Universidad Anãhuac in Mexico City, Mexico, and University of Stellenbosch Business School in Bellville, South Africa, on non-governmental leadership and change. Carolyn a graduate of the Coach Training Institute (CTI) and serves as a leadership coach for the Community Resource Center located in Denver, Colorado, and the City of Boulder. As a public speaker, Carolyn focuses on discussing the question "what does it really take to create and sustain an inclusive multi-cultural, multi-racial democracy?" Carolyn earned a PhD in Leadership & Change from Antioch University. She currently serves on the board of the ACLU-Colorado and was appointed the Affiliate Equity Officer.