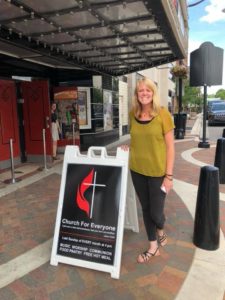 Welcome to my Journey – Stephanie Hanslow ('20, MDiv)
FRIENDSHIPS FOR LIFE
Current student, Stephanie Hanslow, will graduate from Iliff in the summer of 2020. With only four remaining courses and her CPE, Stephanie will complete her degree utilizing the Iliff Journey model.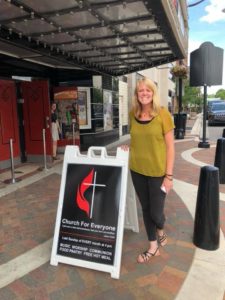 Stephanie chose Iliff for several reasons, but was looking for a United Methodist theology school that offered online classes. She tested the waters with a seminary close to home in Indiana but transferred to Iliff before she completed her degree. At first, attending Iliff and attending school in Denver seemed unrealistic. Denver and Indiana do not share geographic proximity, creating education challenges for this associate pastor. However, after weighing the transfer options, Iliff seemed like the perfect fit. The online learning community has proved to be stronger than Stephanie first anticipated and her time at Iliff thus far has been great.
The online learning model poses hurdles for students hoping to connect in a real, tangible way. However, the Iliff Journey program allows students to interact with one another both online and in person when they come to Denver for gathering days. Stephanie quickly realized that, despite the distance between Denver and Indiana, the colleague friendships she has made through her online education will remain friends for life. With each class and each professor, Stephanie shared that she has learned more than she imagined or could have anticipated. Iliff proves, time and time again, in her course work, professorial interactions, and friendships, to have been the right choice.
Stephanie is currently an associate pastor at a large United Methodist Church in Indiana, but this was not always her career path. Stephanie currently holds two degrees from Purdue University—one in technology and one in management. Prior to theology school, Stephanie was managing a technology department for a bank. A career change and another degree were part of her call. The Journey thus far has been terrifying, fulfilling, humbling, empowering, and wonderful, Stephanie said. In her role as student and associate pastor, she is currently working to plant a new church in downtown Lafayette, Indiana. This church plant is an experiment in economic, racial and social diversity. This new church plant will intentionally work with the local homeless community as well as other less fortunate groups to find solutions to large problems. The hope for this new church is to address issues in extreme populations and use the methods and solutions to address similar problems elsewhere.
Stephanie's involvement in this new church happened by accident. The idea blossomed out of casual and cordial conversations among friends and seemed to grow successful roots. Over time, with great effort, this idea received official backing by the denomination. The future of the church, Stephanie says, looks bright. In January of 2019 the two-year journey to turn this experiment into a placed and planted church will finally begin.
In all of Stephanie's recent endeavors whether it is the decision to go back to school, the decision to take a leap of faith with an online learning community, or to start a new church, she has faced each new journey head on. Stephanie's journey with Iliff thus far has been fruitful and fulfilling, allowing her geographic flexibility while also continuing to further her pastoral calling at her home in Indiana. Stephanie may only have a few courses left, but her journey as a pastor and difference maker has just begun.